Lakefield Veterinary Group and Best Friends Pet Hotel Recovery Efforts
We Need Your Help – Hurricane Harvey has done unimaginable damage to the Gulf Coast region and the floods in Texas have been devastating. Houston is home to 12 of our hospitals and pet hotels, and many of them sustained overwhelming losses due to the severe flooding that occurred during and after the storm. On behalf of the entire Best Friends/Lakefield family, we are so proud of our selfless Houston team and their heroic efforts to save pets and team members in need. We are thankful there have been no serious physical injuries to report from our Houston team. However, many have been left with unimaginable financial damage and losses. To help, we have started a relief fund that will donate to those who do not have flood insurance.
As of today, we have raised $131,300. We need your help to reach our company goal of $145,000! 100% of the funds will be distributed to our team members who do not have flood insurance and need help.
To donate, please visit https://www.youcaring.com/Lakefield_BestFriends. *Donations are not tax deductible.
One thing Hurricane Harvey did not destroy is the spirit of those in Houston. Our team members went above and beyond to assist those in need. They have worked tirelessly over the past few weeks, and we want to take a moment to recognize their efforts by sharing the many heartwarming and heroic stories in the Hurricane Harvey Recovery Updates section below. Texans are truly an amazing group of people, and we thank every one of you for your efforts and for your undying commitment to pets.
---
Hurricane Harvey Recovery Updates
Date: September 15, 2017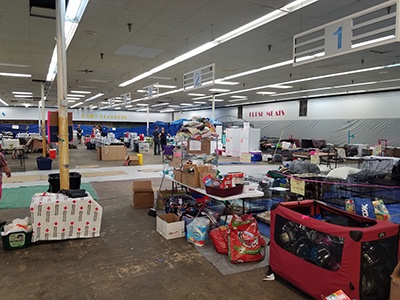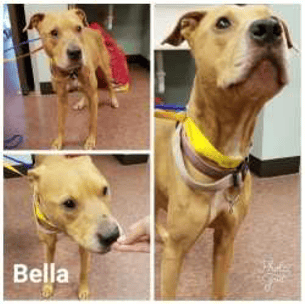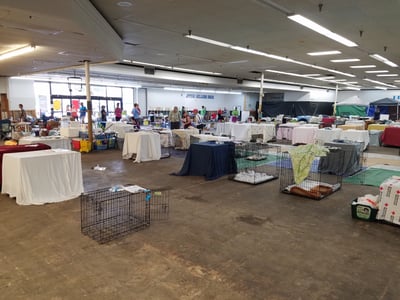 Houston Pets Alive in Need of Veterinary Help – Houston has been devastated by Hurricane Harvey and floods in the aftermath. We are incredibly proud of our Houston team and the work they are doing to care for pets in need through organizations like Houston Pets Alive, a rescue that is taking owner surrenders to get them healthy and into new homes.
Dr. Walker, from St. Francis Animal Hospital, has shown incredible support in response to patient's medical needs and serving as the medical hub for Houston Pets Alive. Just last Friday, Dr. Walker and his team took in a sweet pit mix that has a hurt leg and a chow mix that is heartworm positive. Other Harvey heroes include two IDEXX/Gulf Coast radiologists who recently showed up to help and our vendor Dechra/Putney who made medical donations. However, Houston Pets Alive is still in desperate need of veterinary help; specifically DVMs who can write health certificates (not international), vaccines, and prescription medications when needed, as much of their out-of-state aid has now left.
If there are any veterinarians in the Houston area or who can make the trip down, they are extending temporary TX DVM Licenses through the Texas state board for those to help in disaster relief. Any amount of time is appreciated, from 1 hour to 45 days, and anything in between. Please contact Cathie at (480) 878-8970. The facility Houston Pets Alive is working out of is an abandoned grocery store at 8620 Stella Link Rd. Houston, TX 77025.
Learn more about how to help Houston Pets Alive at http://www.houstonpetsalive.org/harvey/.
---
Date: August 26 - 29, 2017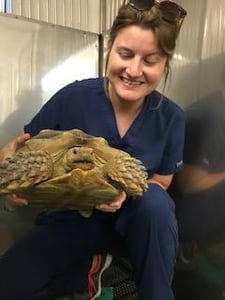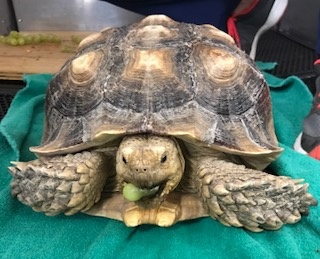 Heroic Stories from the Field – A client called one of our hospitals quite distraught because he had to leave his beloved pets, including a tortoise, in the attic when a Coast Guard Helicopter evacuated him. He pleaded with our team to find help for his pets. Our Hospital Administrator secured a boat, went to his house, and was able to rescue his pets and bring them to the hospital to keep them safe. The tortoise, named "Rowdy", is about 15 years old and loves his grapes!

One of our doctors went to his hospital by boat, gathered chronic meds and proceeded to deliver them, by boat, to the doorsteps of the pets in need.

A local emergency and specialty practice in Houston suffered irreparable flood damage and the building partially collapsed. Their doctors rushed critical pets to our Sugar Land hospital (Specialty & ER) where our doctors worked alongside theirs, around the clock, to ensure the pets received care.

Numerous doctors and team members worked so selflessly, whether at their hospital, another Lakefield hospital, or a hospital in which they were able to reach safely, treating sick, injured and lost pets.

Team members stayed at our pet hotels and hospitals to ensure pets in our care were fed, walked and secure. Our team did a great job of keeping in touch with pet parents to let them know all was well and their pets were safe.
Our Best Friends Veterinary Hospital in Spring took in and treated three bottle babies in need of care. One was a small cat in rough shape who came to us in shock, dehydrated and with a broken leg. Another was named JJ who had a gnarly wound on her leg all the way down to the bone.
Team member, Tanya, from Sugar Land Veterinary Specialists, helped out at the Humane Society immediately following Harvey and offered up her vehicle as a sort of Girl Hospital while she was there.