The kids are getting ready to head back to school, and everyone in your family is excited about the new school year.
Every one, that is, except the family dog. Your normally well-behaved pet has adopted some undesirable behavior -- chewing on furniture, barking excessively or soiling in the house.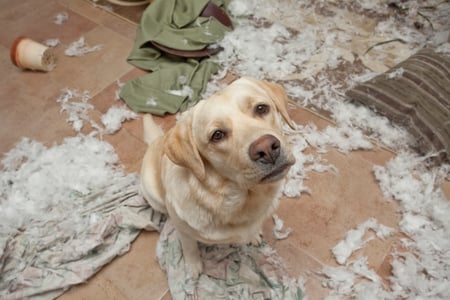 Back to school brings a big change in your household routine: after having the children to play with all summer, your dog suddenly finds himself home alone. For many dogs, this change stressful. Some suffer separation issues.
We asked three of Best Friends Pet Care's professional dog trainers for advice on how to make the transition easier on the whole family. They recommend taking action before problems arise.
First, ease into the school schedule. It's a good idea to begin preparing your pet for home-alone time well before the first day of school. A week or two in advance, start leaving your dog at home for longer and longer periods of time, gradually building up to the approximate length of the first school day. A slow transition will be easier on your pet.
Add mental stimulation. To reduce boredom while the family is out, shift your pet's meals from the food bowl to a food-stuffable toy. Before you head out the door, fill a treat-dispensing ball with your dog's regular kibble; she'll have to work to retrieve her breakfast – and will be so busy that she won't notice you are gone! Another great option is a Kong stuffed with peanut butter and a small biscuit and frozen; it can keep a dog busy for an hour or longer.
Pump up the exercise. A well-exercised dog is a happy dog. If your pet has been getting lots of exercise during the summer and that suddenly stops, problem behaviors may develop. Schedule time each day for a long walk, an active round of fetch, or a visit to the dog park where he can romp with canine friends. Leaving your dog alone out in the yard does not count as exercise!
Try training. Dogs thrive on the structure that training adds to their lives, yet we sometimes let obedience skills lapse during the summer. Working on a new trick or routine each day will engage your dog both intellectually and physically. A training class is a great way to refresh or expand skills – and give your dog an opportunity to socialize with other dogs.
Send him to camp. A great alternative to lonely days at home is doggy day camp, where dogs play together in a safe, supervised environment. It's beneficial for dogs of all ages, sizes and breeds. Young and high energy dogs will get a terrific aerobic workout and come home tired and happy. Attending just two or three days a week is enough to keep most dogs content. Best Friends offers camp at most locations.
If the behavioral problems continue after you try these tactics, check with your vet to be sure there is no underlying health problem. Then, consult a professional trainer who can help you develop a plan that suits your pet's personality and your family's lifestyle.
_ _ _ _
Our expert panel of trainers for this blog included:
Kimberly Mandel is a behaviorist who has been training dogs for more than 15 years. She is certified by the Council of Professional Dog Trainers and can be reached at Best Friends North Plainfield NJ Pet Care center.
Lynne Fermanian has been training for more than 25 years, working with police and search and rescue dogs as well as family pets. She specializes in behavioral training and can be reached at Best Friends in Tyngsboro MA.
Joy Aldrich has been a professional dog trainer for the past five years. She received her certification from Animal Behavior College in 2007. Joy can be reached at Best Friends Ashland MA Pet Care center.