Halloween is just around the corner and many pet owners are eager to include the family pet in the festivities. Unfortunately, trick-or-treating can turn ugly if an excited dog dashes off in pursuit of costumed children with bags of candy.
No one wants to spend Halloween night in the emergency room with an injured child, or roaming the dark streets in search of a lost pet, so we asked some of Best Friends professional trainers to share their top tips for keeping everyone safe.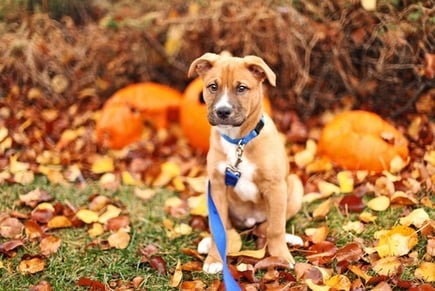 1. Assess your pet's personality
If your pet is friendly, adapts well to new situations and is well behaved, then you, your dog and the children can all have fun together on Halloween. But be honest with yourself about your dog's temperament and behavior: if your dog is shy or easily frightened, it's just not fair to drag him around the neighborhood trick-or-treating; if your pet is unfriendly or anxious, you could be putting children at risk. Even a friendly dog who becomes overexcited can knock down and injure a small child.
Some pets just aren't cut out for people Halloween. If you have one of those, boarding at a quality kennel is a great alternative. Your pet will be safe and have his own brand of fun, while you can focus on the children.
2. Keep your dog leashed
Whether you are out trick-or-treating or at home answering the door, your pet should be on a leash – for his own safety and the safety of others. It only takes a moment for a dog to dash out the door or run off after the neighborhood kids. Don't assume your dog is reliable because he is well trained; all the stimuli of unusual activity, noises and sights can provoke even the best-trained dog to bolt.
Never leave your pet outside in the yard alone – even if you have an electronic containment system. People walking past the house are a set up for barking, perimeter chasing and unruliness. Be sure your dog is indoors for mischief; some teens may target pets with their pranks.
3. Don't reinforce bad behaviors
Knocking and doorbell-ringing trigger barking and unruliness in many dogs, and Halloween can reinforce those undesirable behaviors. Your dog doesn't know that the people at the door were only planning to stop for a moment. He thinks his barking chased them off, so he tries it again – and again – and it works every time! The behavior releases endorphins similar to those in humans when we exercise, reinforcing the new and troublesome habit even more.
To avoid "training" your dog to back, banish him to another room – away from the front door – immediately if he starts to bark at trick-or-treaters. Better yet, if you know this is an issue for your dog, get him out of the house completely.
4. Keep costumes simple
If you decide your dog is sufficiently well behaved to participate in the neighborhood festivities, choose a costume that won't hinder your dog's movement, vision or scenting ability. Look for one that is easy to get on and off, that doesn't drag and won't interfere with your pet's ability to potty when needed.
Be sure to "test drive" the costume prior to the big day to be sure you pet is comfortable and to give her a chance to get used to it. If she doesn't like it, don't force her to wear it all evening. Snap a photo of her with the kids, then take off the costume and let her relax.
5. Have dog treats at hand
Access to the treat bag is dangerous. Everyone is aware of the toxicity of chocolate, but those small boxes of raisins can be toxic for dogs, too, and wrappers can cause intestinal blockage. Be careful that your children don't come home and dump their treat bags on the floor with your pet in the room. Vigilance is essential to keep human treats well out your pet's reach.
It's a good idea to have a few of your dog's favorite treats in your pocket and offer them when the kids are gobbling their candy.
Finally, remember that trick-or-treating is really about the children. Your pet won't mind skipping the holiday as long as he has some activity to keep him busy and a few of his favorite treats to make him happy!
_ _ _ _
Our expert panel of trainers for this blog included:
Kimberly Mandel is a behaviorist who has been training dogs for more than 15 years. She is certified by the Council of Professional Dog Trainers and can be reached at Best Friends North Plainfield NJ Pet Care center.
Jamie Ianello specializes in advanced training and aggression issues, and trains for Best Friends in White Plains NY, and
Lynne Fermanian has been training for more than 25 years, working with police and search and rescue dogs as well as family pets. She specializes in behavioral training and can be reached at Best Friends in Tyngsboro MA.