I just love holiday time! There are so many fun things to do and good things to eat. And everybody is in such a good mood!
And then there's the turkey…I LOVE turkey. My mom says Best Friends will be hosting holiday turkey dinners for the pets staying with us on Thanksgiving and Christmas again this year! These lucky dogs get to eat slices of freshly roasted turkey on top of turkey-and-rice dog food and some of my favorite veggies. There's even one of my favorite desserts: a sweet potato doggy biscuit.
Here I am doing a taste-test with my friend Mia: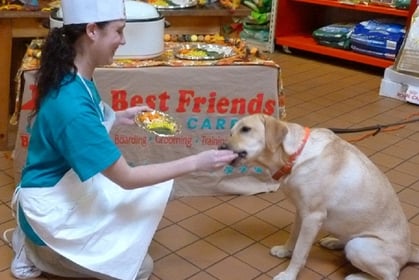 Not only is there yummy food, but the people who take care of everyone are making extra turkeys to share with the pets at animal shelters near our centers. Makes me feel good that those pups waiting for someone to take them home will get to have a delicious dinner too!
You know what else Best Friends is doing? Every year they have an Animal Angel Tree program in all their centers that collects donations for shelter and rescue groups until the end of the year. I just love the way the tree looks in the lobby---so pretty with the paper ornaments! The ornaments have pictures and information about dogs and cats and what they're wishing for this Christmas or Hanukah. C'mon people---let's make some dreams come true!
You know, I go to camp every day, so I'm really excited about all the parties they're going to have in Doggy Day Camp. I just can't wait for my picture with Santa Paws! This year I'll have to remember to give a biggggg smile!
It's gonna be a great holiday season at Best Friends this year! Be sure to stop by and share in the fun!
XOXO Belle
For details, check out your local Best Friends Facebook page.
_______
Editors' Note: Belle is an English Lab who attends marketing meetings with her mom when she's not hanging out with friends in Doggy Day Camp. Because she's an authority on what dogs like to do and eat, Belle posts from time to time about dog-friendly events at our centers nationwide.