Did you begin the 2013 by making New Year's resolutions? Perhaps to exercise more, eat better or spend more quality time with family and friends during 2013?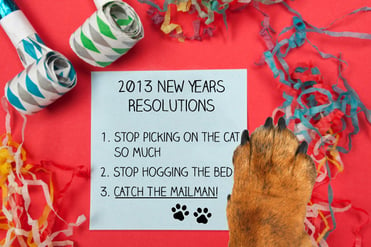 As pet owners, we should consider adding a resolution or two designed to improve our pets' health and well-being. We asked our Dog Dish experts for their advice on ways we can be better pet parents in the year ahead. Here are their recommendations:
1. Take your pet to the vet -- A healthy-pet check-up and routine testing is important, so schedule a visit to your pet's veterinarian. Be sure your pet's vaccinations are current, and keep up with heartworm and flea treatments throughout the year.
2. Get weight under control. If your pet is overweight, it's essential to assess his diet. Your pet's needs change over time, so be sure to ask your vet about the best diet for her age, breed and health. Resolve to stop feeding table scraps to your pet and to cut back on treats.
3. Pump up the exercise. Without a regular work-out, your dog may put on weight and develop health problems or behavioral issues. A long walk or run can be a bonding experience, but if you can't fit one in your schedule every day, doggy day camp is a great alternative.
4. Send him to school. A well-behaved dog is a pleasure to be with, but training is also your responsibility as a pet parent. Whether it's to learn the basics, take on advanced tricks or try agility, enroll the two of you in a training class this winter.
5. Make grooming routine. Regular brushing and bathing do more than just you're your pet nice to be near; they contribute to your pet's good health. Always use shampoo and conditioning products formulated for pets. If you are unsure about the best choice for your pet's coat and skin, ask a professional groomer.
6. Give your dog a social life. Dogs are social animals and most really enjoy spending time with other canines. A dog that gets out and about has a higher quality of life, is better adjusted, and responds more reliably to training cues. Visit the dog park, join a meet-up group or enroll him in doggy day camp so he can make new friends.
7. Pet-proof your home. Be sure your house is pet safe: cover electrical cords, put medications away, clean up spilled antifreeze or pesticides, and get rid of poisonous plants or place them up high, out of reach.
8. Update your pet's ID. Have your pet micro-chipped, if you haven't already done so. Get a new collar and ID tag for your pet. Make sure your pet is properly licensed.