Friday, June 21 is "Take Your Dog to Work" Day. The annual celebration has come a long way since the inaugural event in 1999. A growing number of companies allow pets in the workplace for this special occasion.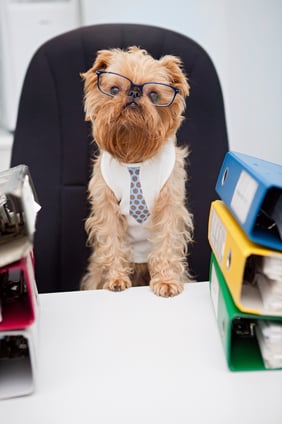 The experts at Best Friends Pet Care offer some tips on how to make sure taking the dog to work is a happy experience for everyone involved (pets, coworkers and bosses!). They are experts because, staff members at Best Friends bring their dogs to work every day year round.
They suggest that you start by considering your dog's temperament and training. Remember that behaviors you think are cute (like jumping up on people to greet them) may not be as well received by co-workers.
Additionally,
Your pet should be friendly and relaxed around both people and other dogs, and be reliably housetrained (marking the office carpet is a no-no!)
Also, think about how your pet behaves when you leave. Does she howl or cry from separation anxiety, or just lie down and take a nap?
Even if your pet is extremely well-behaved, be sure to check with your co-workers about any concerns they may have. A colleague with severe allergies or an overwhelming fear of dogs won't appreciate even the gentlest canine.
If you decide to take your dog to work, the following equipment will make the day easier on your pet and your co-workers:
A pet or baby gate, so you can restrict your pet to your office area or cubicle.
A water bowl and some treats, plus a plastic mat for under the bowl can help prevent stains on the office carpeting.
A bed or sleeping mat and a couple of familiar toys.
Plastic baggies for cleaning up after your pet!
Above all, be respectful of your co-workers and "Take Your Dog To Work" Day can be a successful and fun experience for you and your dog. For more information about dog behavior, visit www.bestfriendspetcare.com