Every year at each of our locations, we have an Animal Angel Tree program that collects donations for shelter and rescue groups until the end of the year. Actually, since it began in December 2000, the Best Friends Pet Care Angel Tree campaign has provided hundreds of thousands of dollars' worth of food, toys and pet care products to more than 100 different shelters and rescues across the U.S. -- and dozens of pets have found new homes in time for the new year.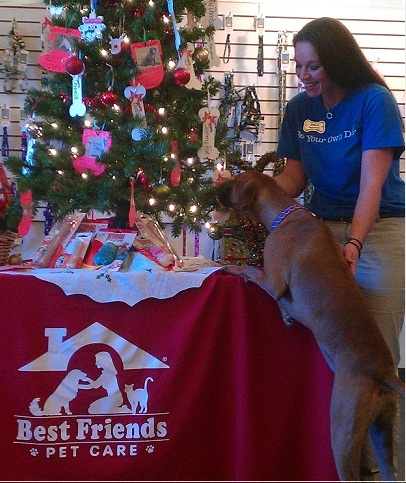 If you come in for a visit from now through New Years, spend a few minutes looking at the ornaments on the Angel Tree as well as the shelter wish list items. The ornaments have pictures and information about dogs and cats in the local shelters and rescues and what they're wishing for this Christmas or Hanukkah. It's the perfect time to band together and help the homeless pets in our local community.
Please help us continue to support homeless pets by donating unused items from their wish lists, by purchasing items from our lobby to donate, or by making a donation that we can add to your bill.
Call your local center to find out more details or to make a donation over the phone.