Here at Best Friends Pet Care, we are excited to announce that we have been expanding into the veterinary care realm! Our guests have grown to know us as the leader in providing the best pet boarding, grooming, training and doggy day camp, nationwide. But on top of our 41 pet care centers, we are now operating nine veterinary hospitals and growing fast. This means we are now able to provide veterinary and pet care expertise! A total pet care experience for both you and your pet!
So what better way to share our new found knowledge and provide you with current information on care for your best friend? How about answering your questions and providing you with information that is important to you and your pet? In the next few weeks, we will be starting an "Ask the Vet" segment on our Dog Dish blog. We are super excited that Dr. Jennifer Garcia will be our first contributor.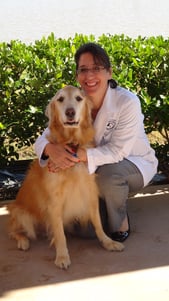 Dr. Garcia joined the team at Sugar Land Veterinary Specialists (a member of the Best Friends Veterinary Group) in 2011. She brings a vast array of experience over the past 10 years of her career, including private specialty practice, consulting, and medical writing. Dr. Garcia has always had a love for animals which is why after graduating from UC Davis with a Bachelors of Science in Zoology she continued her studies at Colorado State University, where she achieved her degree in Veterinary Medicine. She has also been a Diplomat of the American College of Veterinary Internal Medicine since 2001. When she is not hard at work, Dr. Garcia enjoys spending time with her husband and son, and working as a medical writer and editor. Despite the heat and mosquitos, she enjoys spending time outdoors, particularly in the Texas Hill Country whenever possible.
In the coming weeks we will be kicking off our Ask the Vet segment and we'd like to hear topics that you are interested in discussing. Please leave us comments with topics or questions that you'd like to learn about!