"Military members nation-wide confront a multitude of problems during their careers, the last thing they need to worry about is their pet's care during their service commitments. Dogs On Deployment is a 501(c)(3) national non-profit which provides an online network for service members to search for volunteers who are willing to board their pets during their owner's service commitments. Dogs on Deployment promotes responsible, life-long pet ownership by military pet owners by advocating for military pet owner rights, providing educational resources and granting financial assistance for military pet owners during times of emergency." -http://dogsondeployment.org
We recently learned about Dogs on Deployment and all of the incredible work they do for pets and military personnel in need. We contacted them right away to learn more and it was clear that we needed to get involved. That's why from now through Labor Day (September 1, 2014) we will be collecting donations at our veterinary and pet care centers that will help fund and support their worthy mission.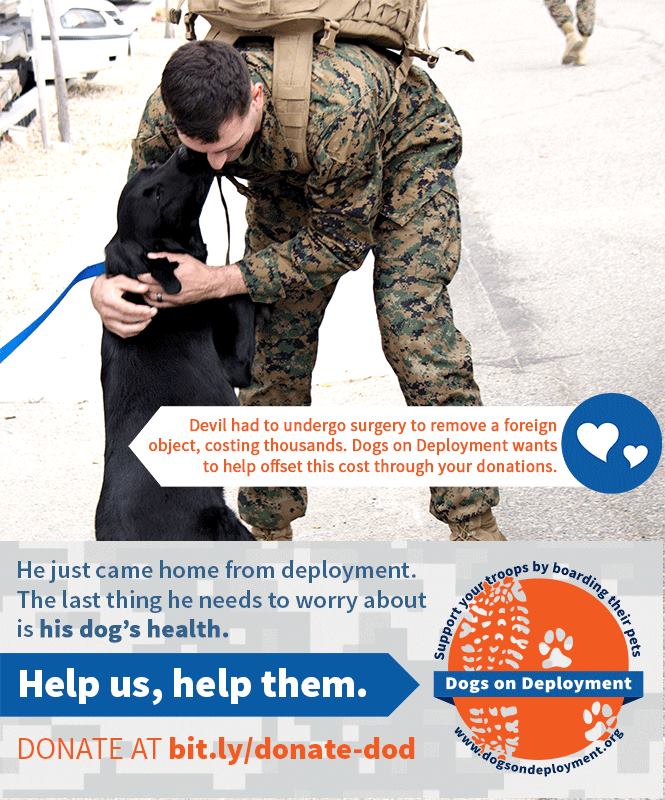 Stop by any Best Friends location to make a contribution. To learn more about the Dogs on Deployment organization, to volunteer or foster, or if you are a military member with a pet in need, visit the Dogs on Deployment Facebook page or website. Thank you all for helping us to support this organization.