With all of the demands on our time these days, sometimes remembering to take our furry family members in for a check-up seems like just one more thing on ever-growing to do list. A little investment of time now however, may save you and your pet a lot of care (and money) down the road.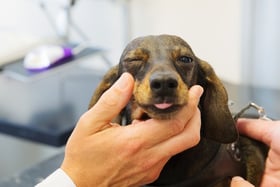 Routine preventive care visits are an important part of maintaining overall health. Getting vaccinations is not the only reason your pet should see the family vet – there is so much more to these visits than just "shots". Wellness visits give your veterinarian a chance to perform a thorough physical examination. During the exam they can listen to the heart for any abnormal changes in rhythm or the presence of a heart murmur. They will feel for any lumps, bumps, areas of pain, organ enlargement, any evidence of arthritis, etc. All of these things can then be addressed before they become a significant health issue. Our pets can sometimes be so good at hiding a problem that you may not even know they aren't feeling well until they are really sick.
During the wellness exam your veterinarian can also discuss the ideal diet for your pet, review parasite control medications that may be needed, and answer any questions you may have about how your pet is doing at home. Depending on your pet's age and lifestyle, annual blood and urine tests will also be done to screen for early signs of any problems such as kidney or liver issues, infection, etc.
A great way to avoid the 'sticker shock' that can sometimes come with routine veterinary visits is to enroll your pet in a preventive care plan. These plans often cover wellness visits and lab tests and can spread the cost over the course of the year.
Consider that our pets' age faster than we do so not seeing the vet at least once a year is like a child not going to the pediatrician for 5 to 7 years! Prevention is always a better alternative to treatment so be sure to schedule routine wellness visits for your furry family members.
Give us a call for more information or to schedule an appointment today. To see a list of all our veterinary hospitals please click here.