Complete care for dogs and cats under one roof now available in Prairie View
Prairie View, IL, August 27, 2014 -- Best Friends Total Pet Care has added a full-service veterinary hospital to it pet care center at 22096 North Pet Lane. The facility now provides comprehensive pet care services -- boarding, day camp, grooming, training and veterinary care -- all in one convenient location.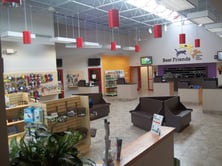 The new veterinary hospital opened August 11. Led by Cassandra Lewis, DVM, the practice offers complete health care and medical services for dogs, cats as well as some small animals, including routine health care exams and vaccinations, general surgery and dentistry. The hospital has on-site diagnostic testing, radiology and laboratory services to ensure prompt diagnosis and treatment. Working with Dr. Lewis, will be Catherine O'Keefe, DVM.
Every new pet patient of the hospital will receive a free initial exam. In addition, to encourage pet owners to provide routine health care for their companion animals, Best Friends is launching a pet wellness plan. The Total Care Plan covers a free annual exam, unlimited office visits and discounts on routine health services, plus a 10 percent discount on other pet care services – including boarding, grooming and doggy day camp.
"Our goal is to provide outstanding health care service to pets -- and their owners -- in a caring and compassionate environment," says Dr. Lewis. "Our services are designed to help every pet live the healthiest, happiest life possible."

Dr. Lewis is a graduate of the Purdue University School of Veterinary Medicine. She completed her internship at the Kendall Road Equine Hospital in Elgin, before moving to Wisconsin to work with companion animals at a mixed animal care hospital. Her specialties are surgery, preventative care, and internal medicine. Dr. Lewis and her husband recently returned to Illinois and share their home with two dogs and two cats and an assortment of fish and other sea creatures.
Dr. O'Keefe graduated from University of Minnesota College of Veterinary Medicine and completed her internship at VCA Berwyn and Aurora. She worked in internal and emergency medicine for several years, then in the Oncology and Hematology Department at the Ohio State University Veterinary Teaching Hospital. Since returning to general practice, she has studied veterinary acupuncture and herbal medicine, which she employs in her practice. She moved to Chicagoland two years ago with her husband, two children and two cats.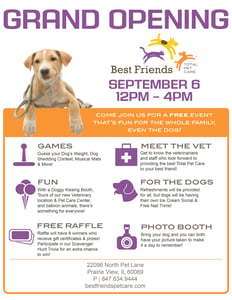 A grand opening celebration is scheduled for Saturday, Sept. 6 from 12 to 4 p.m. Pet lovers are invited to join the staff for contests and games, tours, free nail trims, raffles and giveaways.
The hospital is open Mondays through Fridays from 7 a.m. to 7 p.m. and Saturdays from 8 a.m. to 5 p.m. Walk-ins are welcome after 9 a.m. For more information or to schedule an appointment, call 847-634-9444 or visit the website at www.bestfriendspetcare.com.