It's been a joy providing the best in pet care services to the Shrewsbury, NJ and Harrison, NY communities. We have had to make the difficult decision to consolidate both our Monmouth County and Westchester County locations.
We will be transitioning services for our Shrewsbury, NJ center to our sister location in Marlboro, NJ. Services for our Harrison, NY center will be transitioned to our White Plains, NY location, just ten minutes away.
Our last day in Shrewsbury and Harrison will be January 28th, 2015.
We understand and regret the inconvenience that this may cause for some of you. However, some of the same faces you've come to know will be moving with us to the Marlboro and White Plains centers. There you can enjoy the same pet care services that you were accustomed to all with the personalized care you've come to know and trust for your Best Friends.
Thank you for your years of patronage at our Shrewsbury and Harrison locations. We look forward to seeing you and your furry family members at our Best Friends sister centers in Marlboro and White Plains.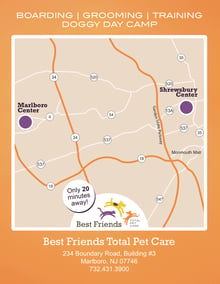 To find out more details or to make future reservations, feel free to call Best Friends Pet Care in Marlboro, NJ at 732-431-3900 or Best Friends Pet Care in White Plains, NY at 914-997-0600.