Dirty Dogs Wanted!
Do you have a messy mutt? A filthy fido? A grubby puppy? Show us why your pet needs a spring cleaning! Our new pet photo contest kicks off on March 2, 2015 with the submission period running through March 30, 2015.
Just submit a photo of your dirty dog or a mess he's made and you could win a free grooming for your pup at Best Friends, just in time for spring cleaning. We are giving away ten free grooming packages for the muddiest mutts!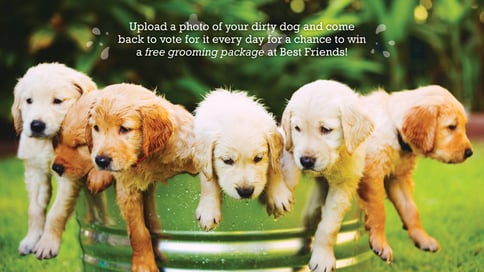 Not familiar with the grooming services at Best Friends? From a quick shampoo to a full day of pampering, our groomers and pet stylists will make your pet "paw"sitively gorgeous.
To enter the contest, head over to our Facebook page, click on the contest tab and upload a photo of your pet making a massive mess! Then, come back and vote for it every day and be sure to tell your friends to do the same. Don't forget to like our page while your there to stay up to date with contest news and other fun stuff. If you are using a mobile device, please click this link to access and enter the contest.
If you prefer, you may enter a photo to the contest via Instagram as well by uploading an image to your Instagram account. You must then add the contest hash tag (#dirtydogscontest) in the caption of your image. Any photos that are uploaded to Instagram with this hashtag will automatically be imported into the main contest Dashboard on Facebook as an entry.
The 50 photos with the most votes will go on to our private judging round where we will choose ten mucky winners to receive a free grooming at Best Friends Pet Care!
Good luck everyone! We're looking forward to your entries!