April is Prevent Lyme in Dogs Month, so all of us at Best Friends want to help you become a little more knowledgeable about this disease and what you can do to protect your furry family members.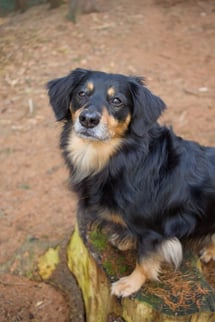 Lyme disease (also known as borreliosis) is caused by a bacteria called Borrelia burgdorferi, which is transmitted by the bite of infected deer ticks. According to the Centers for Disease Control and Prevention (CDC), Lyme disease is the most commonly reported tick-transmitted disease in the US. Not only that, it is also a serious health concern for dogs.
Not all dogs that are bitten by a tick will become infected or show signs of illness. Those that do however, may have lameness, fever, loss of appetite, and lethargy. Some dogs may also develop a kidney problem which causes inflammation in the kidney and protein loss in the urine (Lyme nephritis).
The good news is that there are ways to protect your dog against this infection. Prevention is key and there are many safe and effective tick prevention products available. There is also a vaccination available to help protect your dog against Lyme disease.
Given the mobility of our society and the migratory paths of birds and animals, Lyme disease is no longer a geographically isolated problem and has been reported in all 50 states. Be sure to talk to your veterinarian about tick prevention products and whether your dog should receive the Lyme disease vaccine.
For more information, visit the CDC Lyme Disease web site ( http://www.cdc.gov/lyme/)