May is National Pet Month -- What a perfect time to show your furry friend how much you care about them! Whether your pet is a dog, cat, horse, bird or any other amazing animal, our pets are there for us and never ask for anything in return. During National Pet Month, we are encouraging pet owners and potential pet owners to reflect on responsible pet ownership while celebrating their furry family members. So, how can you celebrate National Pet Month?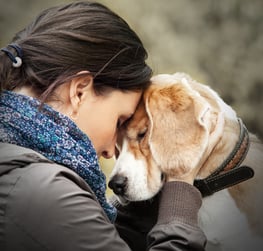 National Pet Month aims to:
1. Promote the benefits of pet ownership
Did you know that medicine is less effective in controlling blood pressure than pets are? Or that it is proven that pets reduce stress? The health benefits of being a pet owner are almost as great as the joy that our pets bring into our lives.
2. Support pet adoption
We are pet parents! not pet owners. Our pets are members of the family, share our lives and our homes. If you are thinking about pet parenthood, consider adoption. Who better to share your home with than a creature with no family of its own? The ASPCA has a fantastic Adoption Page which provides plenty of information about adopting a pet.
3. Promote responsible pet ownership
The health and happiness of a pet depends largely upon the pet parent. It is very important to consider the health needs of your pet. Are they eating enough? Are they getting enough exercise? Is it time for vaccinations? Are they overdue for a vet visit?
4. Raise awareness of the role, value and contribution to society of service animals
Pets not only give us joy, they can also provide valuable social contributions! Service animals are specifically trained to provide assistance to individuals with disabilities. The majority of service animals are dogs. However, others animals such as monkeys and miniature horses can be trained to provide assistance.