July 31st is National Mutt Day, a day dedicated to celebrating mixed breed dogs! As anyone who has ever owned a mutt can tell you, these guys have just as much to offer an any purebred dog and can take on a variety of important jobs such as therapy dogs, bomb-sniffing dogs, and guide dogs.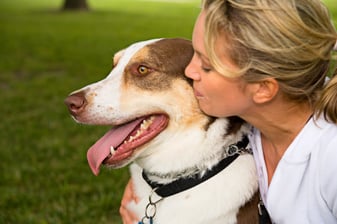 Of course as animal lovers, we love dogs of all kinds of dogs but there is a special place in our hearts for the mutts. Part of the reason is that there are so many variations in appearance. Their different genetic makeup means that they come in all shapes and sizes and when you adopt a mutt, you are getting a one-of-a-kind companion. Sadly, mutts also make up the majority of the dog population at most animal shelters and are the most in need of placement in a good home.
Here are just a few reasons you should consider adopting a mutt:
• You'll be saving a life and freeing up space for another dog at the shelter
• By adopting instead of buying a dog, you are making it harder for "puppy mills" to stay in business
• Mutts generally have fewer health problems than purebred dogs due to their genetic variability
• Unless you are looking for a working dog or show dog, breed-specific traits don't matter
• Mutts tend to be very smart and can be trained in a variety of tasks
If you are interested in knowing the genetic makeup of your beloved mutt, there are now companies that specialize in dog DNA testing. Typically, a swab from the inside of the cheek is all that is needed.
Be sure to celebrate all of the mutts in your life and hug a mutt today!