Let's face it–going to the veterinarian to receive vaccinations not always fun. Your pet doesn't like the injection and will squirm, the technician may not be able to properly assist in keeping your pet still, you have to come back for another dose in a few weeks, and it might not be effective for several weeks.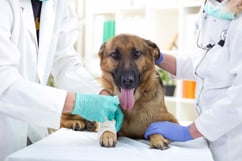 We are trying to make at least one common vaccination easier for your pet. It is the Bordetella vaccination. Bordetella bronchiseptica, known by its familiar names–Canine Cough or Kennel Cough–is a common airborne bacteria and is actually closely related to Whooping Cough. It sounds like a honking noise when your dog gets it.
If your dog is social in any way, has a play group, boards while you travel, or goes to dog parks, the Bordetella vaccine should be a on the list of vaccines for your dog. Most of the vaccines in use today require a booster, a needle and are often required every six months. The vaccination, Bronchi-Shield Oral, we use for Canine Cough is different:
• No needles: The vaccination is delivered through the mouth. It provides an effective deterrent while eliminating any injection into your pet. It makes the delivery much quicker, easier, and painless.
• No booster vaccination: This Bordetella vaccination is needed just once a year. That means less visits for your dog. That helps your wallet while receiving the same protection.
• No sneezing: Other common Bordetella immunizations are delivered through the nose. Sneezing is a common side effect and may release some of the vaccine into the air. There is less worrying that your pet may have not received the full vaccine dose.
We believe providing quality care starts with finding the best solutions for your common problems. We believe we've found one with the Bronchi-Shield Oral Bordetella vaccine. Visit us soon, and find out for yourself what makes us different.