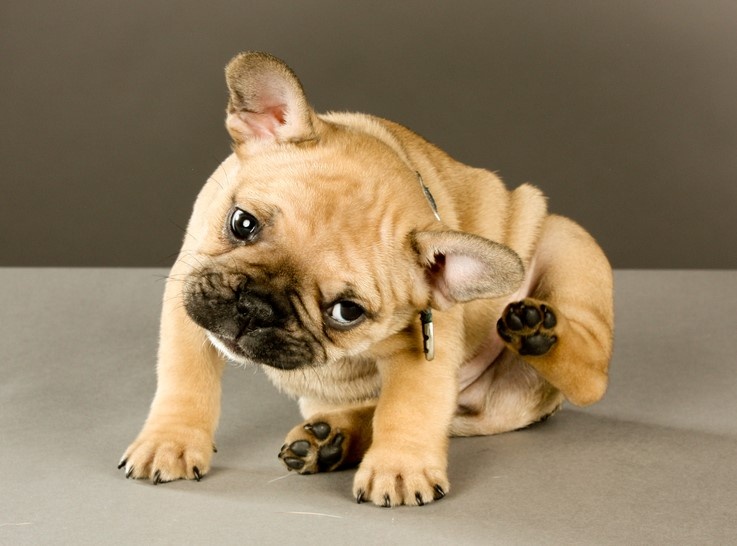 Environmental flea infestations usually begin 6 to 8 weeks before you ever notice a flea.
A few fleas jump on your unprotected pet and begin feeding and breeding.
These fleas can begin laying eggs within 1 to 2 days. The flea eggs roll off wherever an infested animal goes, turning an untreated pet into a "salt shaker" that leaves new sources of fleas around the house and yard.
Treating your pet is the first step, but immature flea stages are still present in the environment.
MONTH 1: FIRST DOSE
Flea Population Swells
NexGard® (afoxolaner) chewables for dogs provides fast flea control on your dog. NexGard starts killing fleas within 4 hours. For an entire month, NexGard will keep killing any new fleas that jump on your dog before they can lay eggs. NexGard® is effective in breaking the flea life cycle. Revolution® (selamectin) for cats is a great product for the felines and remember that ALL dogs and cats with access to the household must be treated monthly regardless of whether or not you see fleas on them.
Eggs and larvae in the environment will still mature into new fleas.
New fleas emerging from the environment may make a flea problem appear to be getting worse, but the infestation is on its way out.
As your pets pick up new fleas from the environment, NexGard is designed to kill the fleas quickly.
MONTH 2: SECOND DOSE
Infestation Comes Crashing Down
Once all flea eggs and larvae in the environment mature to adulthood and jump on your treated pet, the cycle is broken.
NexGard kills the fleas before they can lay eggs.
The infestation can come crashing down as soon as the second or third month of treatment, but may take longer, depending on environmental factors.
MONTH 3: THIRD DOSE
REMEMBER: Consistency is Key
You can't keep your dogs from picking up new fleas, so give NexGard for Dogs monthly to all dogs in the household, while also treating cats with a feline friendly product like Revolution® (selamectin) for cats, before a flea infestation tsunami can start all over again. A single dose of any flea product can-not end or prevent infestations. To prevent infestations, give a dose monthly. It's an ongoing process. You can't stop or fleas can come back.
Support & Satisfaction
NexGard comes with full support for veterinarians and dog owners, as well as a Satisfaction Guarantee (full details available at www.nexgardfordogs. com). The fast-acting formulation is effective for a full 30 days (1) against both fleas and ticks.
References
NexGard for Dogs (afoxolaner) Chewables Label.
®NexGard is a registered trademark, and ™FRONTLINE VET LABS is a trademark, of Merial. ©2016 Merial, Inc., Duluth, GA.