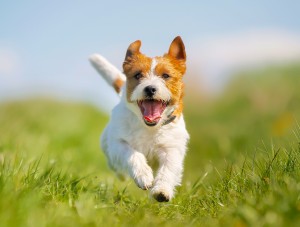 Now that you have gotten (somewhat) used to the newest addition to the family, it's time to start thinking about socialization? The key to having a happy and nonfearful dog, is to start training during puppyhood. Here are some tips on how to get started.
At home…
Once your puppy has been home for a few days and is settled in, start introducing him to loud noises around the house. Get the vacuum cleaner out and let him sniff it. Turn it on and see how he reacts. This should go without saying but, don't chase him with it and don't force him to be near it. He may be afraid of it at first but after a few more times, it won't make him so anxious. Also let him hear the garbage disposal, the hair dryer, the blender, etc. Whatever makes loud noises in your house (including the kids, although he's likely heard them a lot by now).
When you are relaxing on the sofa, play with his feet and stick your fingers in his mouth periodically. Trim his nails so he gets used to this. There may not really be a lot to trim, but the act of having you hold his feet will help make it less stressful later. The same for getting him used to you opening his mouth in case you ever have to give him medicine. Now is a good time to get him used to you brushing his teeth as well.
Out in the world…
This part of socialization is definitely fun but you really have to wait until your pup is done will all of the puppy vaccines before venturing out into the world with your new BFF. Ask your family vet and your dog-loving friends about "puppy kindergarten" classes in your area. These are also offered at some of our Best Friends facilities so be sure to ask J [JG1] In these classes, your pup will learn to interact with other dogs, new people, new environments, and lots of new smells. Puppy heaven! Having your puppy explore these things in a specific space and structured environment allows you to see how he/she does and help ensure that they don't grow up being fearful or aggressive. Kindergarten classes will also start to lay the foundation for some behavior training as well.
Puppyhood is also the best time to start training your puppy to go for walks with a leash. Frequent walks are key since this is a skill that can take some time to master. If your pup sees things that scare him, such as a tree or a trash can, he may bark and back away. Don't try to soothe him if he does this or he will think it is a good behavior. Instead, walk him past it gently, don't pull or force him towards it though.
Overall, enjoy the process. Socialization is one of the most fun parts of having a puppy – its and excuse to show him off and play so, take advantage of it! And always remember we are here if you need us!!