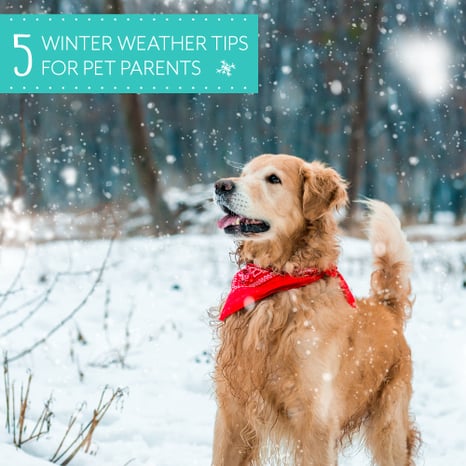 Bundle Up – Keeping your dog warm is important, especially when venturing outdoors in the cold or snow. There are dog sweaters, coats, and boots available that can help keep your pooch warm when playing or walking outside.
Keep Grooming to a Minimum – Much like us, the more layers a dog has, the warmer they are. There is no need to shave your pup down to the skin for winter, but a simple trim to minimize the amount of snow/ice balls accumulating on the fur is just fine. Also, washing your pup too often can increase their chance of dry skin and even remove essential oils. If you want to winterize your dog's skin and coat you can find out more, here.
Manage Their Food Intake – Providing your pet with more (healthy) food and water can help add calories during the winter months if they're still very active. Pets will also burn extra energy by trying to stay warm in colder temperatures. Other pets need slightly less food if they're more sedentary during the colder months. Consult with your veterinarian to see what is right for your pet.
Avoid Chemicals – Commonly used chemicals in the winter that maintain the temperature of your car's engine, such as antifreeze, are lethal to pets. A safer alternative would be to use products that contain propylene glycol rather than ethylene glycol.
Stay Active – Finding creative ways to get exercise indoors is crucial to maintaining a healthy weight for your pet, especially when the Bomb Cyclone hits. Book your pup at our Doggy Day Camp so they can stay active during the cold months!
SOURCES:
Share your photos and videos with us! Did you score a video of Sparky catching a fly ball while jumping into the pool? Did you snap a cute photo of Fluffy in a sleeping slumber? Send your best photos and videos of your pets to marketing@bestfriends.net for a chance to be featured.