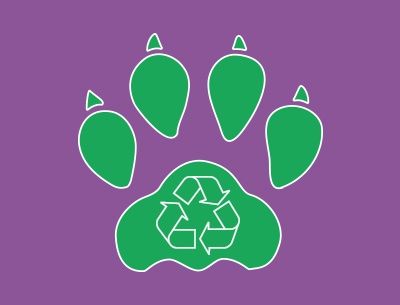 It's Earth Day and we thought it would be great to give you three quick tips on how you can reduce your pet's carbon pawprint.
Tip 1: Use Recycled Material Plastic Bags for Picking Up Your Dog's Waste.
Let's face it, poop happens and no one knows better about that smelly matter than pet parents. Plastic baggies for scooping up a pet's waste can add up quickly during their lifetime. To help keep the cost of your pet's carbon footprint down consider brands such as BioBag and Earth Rated.
Tip 2: Consider Using Biodegradable or Recycled Materials for Cat Litter.
Not only are biodegradable materials good for the environment, they are great for your cat's health too! Products such as, Feline Pine, come from plant based material that are natural and chemical free. These litter types easily degrade into the earth compared to other types that just sit in a landfill. There are also other products that use recycled newspapers such as Yesterday's News, which easily decompose and are great for our planet.
Tip 3: Purchase Natural and Recycled Materials for Your Pet's Toys.
When you purchase a toy for your pet, check to see if they contain natural or recycled materials. Most toys will contain this information on their labels or packaging. You can also purchase toys that are refillable allowing you to use them more than once. For cats, you can purchase refillable catnip toys and for dogs you can purchase refillable treat toys that use old water bottles. Dog's love to chew on these like a bone! You can also re-purpose items around the house for your pets. Dogs love playing with old tennis balls and cats go batty for aluminum foil balls or paper towel rolls.
We hope you find these quick tips helpful in reducing your fur baby's carbon pawprint this Earth Day. For more helpful tips to reduce your pet's carbon pawprint check these two excellent sources: Cathealth.com has an excellent breakdown for cats, and Dog for Dog blog a great source for more ways to reduce the carbon pawprint of your dog as well.
Let us know if you have any great ideas or tips in the comments below!
Are you planning a trip this vacation season and are a new customer? Get your first night with us FREE! Click here for more details. *Offer not valid at Florida locations.