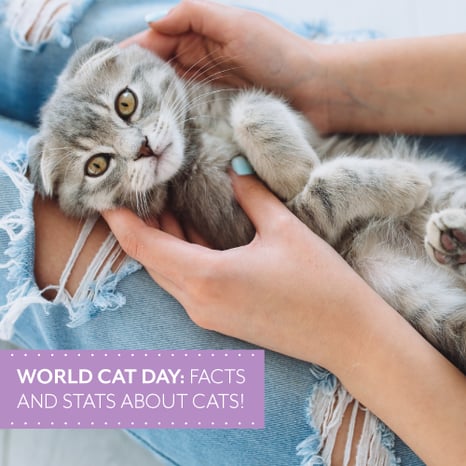 They're furry, they're sleepy, they're fiercely independent, they purr, and sometimes they bring us lovely presents to our doorstep. As one of the most popular pets in the world, it's easy to see why cats are so lovable. In honor of World Cat Day on February 17th, here are some fun facts and stats about our furry feline companions!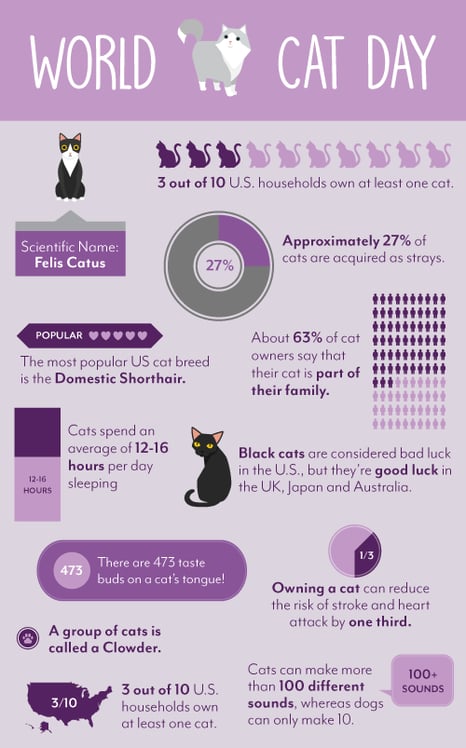 Scientific Name: Felis Catus
Around 27% of cats are acquired as strays.
Most popular US Cat breed is the Domestic Shorthair.
63% of cat owners say that their cat is part of the family.
Cats spend 12-16 hours a day sleeping.
Black cats are bad luck in the United States, but they are considered good luck in the UK, Japan and Australia.
There are 473 taste buds on a cat's tongue.
A group of cats is called a clowder.
Owning a cat can reduce the risk of stroke and heart attack by a third.
Cats make more than 100 different sounds, whereas dogs make around 10.
3 out of 10 U.S. households own at least one cat
SOURCES:
Share your photos and videos with us! Did you score a video of Sparky catching a fly ball while jumping into the pool? Did you snap a cute photo of Fluffy in a sleeping slumber? Send your best photos and videos of your pets to marketing@bestfriends.net for a chance to be featured.