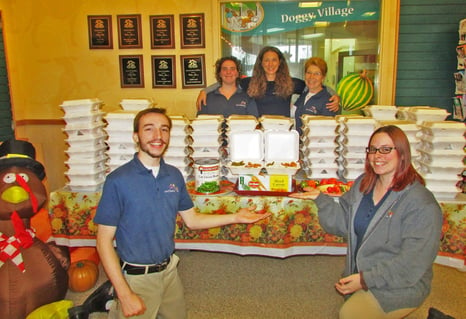 Our own Best Friends Pet Hotel in Willow Grove teamed up with the Pennsylvania SPCA to deliver a delicious "Thanksgiving Dinner" to the resident shelter dogs at the organization's Erie Avenue headquarters.

It has been a tradition of sorts at Best Friends Willow Grove to provide dinner for their boarding guests and this year they wanted to take it a step further by delivering a special treat to dogs who haven't yet found their forever homes.
On November 22nd, 2016, 125 shelter dogs got to feast on a meal of roasted turkey, green beans, carrots, and rice mixed with dry dog food. The dogs are still waiting for adoption at the PSPCA.
The PSPCA were ecstatic at the opportunity to provide the resident dogs with a special treat. The PSPCA staff and volunteers care for the animals like they are family and this is just one more way to provide them with the love they deserve while they await their future families.
If you'd like to help the PSPCA organization or donate you can visit their website at pspca.org. If you'd like to look into adoption at the PSPCA you can look at a list of their available pets by clicking here.
Click Here for CBS 3 Philly's coverage of the Thanksgiving Dinner: PSPCA Dogs Enjoy Special Thanksgiving Meal